Prakash Laddha Group has been involved in several large projects pertaining to conceptualization and development of residential buildings, commercial super-structures, and corporate infrastructures, under the able guidance and leadership of Chairman Prakash Laddha.
With subject matter expertise and subsidiary business firms across civil engineering, architecture, and real estate we are known to deliver and execute projects and infrastructures in the most effective and efficient manner in stringent deadlines.
The Group marks its presence for the last 40 years and has undertaken projects across geographies and across sectors which has created a sense of respect for the Group in all verticals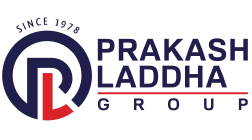 We at Prakash Laddha Group endure to become a global leader by delivering innovative infrastructure and seamless solutions to our clients in a transparent, reliant and a sustainable way by adopting a 360 degree approach of growth fueled with passion and innovation.
To create a world class system of engineering which can deliver innovative projects in a most efficient and effective manner
To create an eco-system of honesty, sustainability and growth by building stead-fast relations with all of our stakeholders, customers and employees where growth is just a byproduct achieved by delivering great service
To embark its presence on the global market and be recognized as a Go-To Brand in the sectors which we operate
"The only way we can do Great work is if we love what we do" This has been the fundamental philosophy of the group. We at PLG love what we do and are very much passionate about it. For us, the deliverables are more important than just mere execution. We believe in doing our work with a sense of responsibility across all avenues which allows us to deal with our challenges and render great experience. We feel that we are responsible not only towards our clients but also are in charge of the society where we live in and which is why we ensure that we continuously strive and shape up the future of our community and give it back from where have gained.